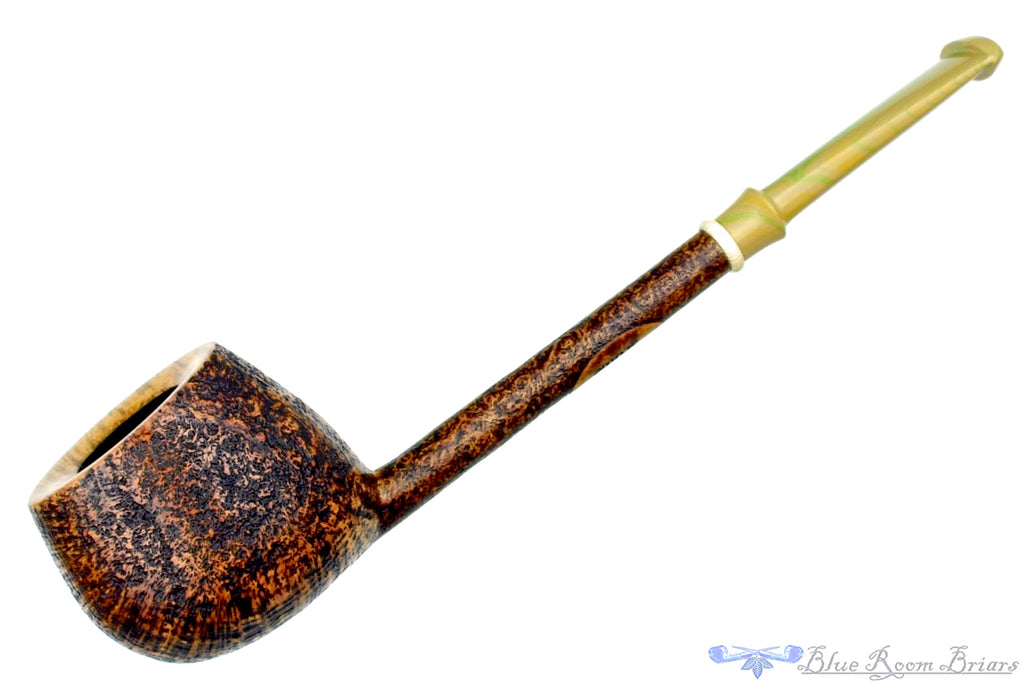 Scottie Piersel Pipe "Scottie" Sandblast Apple with Ivorite and Brindle
Item # SP217344
Details
Big, thick, and curvy in the bowl, this slim shanked and dynamic finished sandblast beauty carries the name of American pipe maker and Our Lady of Briar, Scottie Piersel.  Based on the clay pipe proportions of many generations past, this lean smoker is reinforced in the long, thin shank, making it much stronger than your average briar pipe.  Left smooth across the wide and slightly beveled rim, this sweet spot sized chambered smoker has a simple adornment of ivorite and a wild colored stem of ebonite, single swirl brindle of toasted mustard and green.  In fact, as with much of Scottie's high contrast blasts, there are tones from wheat and honey all the way to rich chocolates and rusty reds all along the stummel, depending on how much light the pipe is exposed to.  Unique and gorgeous, this perfect drawing vessel will always be a looker, but once lit it will smoke so well, it just won't matter.

Length:  6.53 in / 16.59 cm
Height:  1.50 in / 3.83 cm
Width:  1.74 in / 4.43 cm
Chamber Diameter:  .76 in / 1.94 cm
Chamber Depth:  1.22 in / 3.12 cm
Weight:  1.49 oz / 42.1 g

Origin:  United States
Stummel Material:  Briar
Stem Material:  Ebonite (Brindle)
Other Material:  Ivorite Ring
Filter:  None

Markings:  "Piersel", "Scottie"