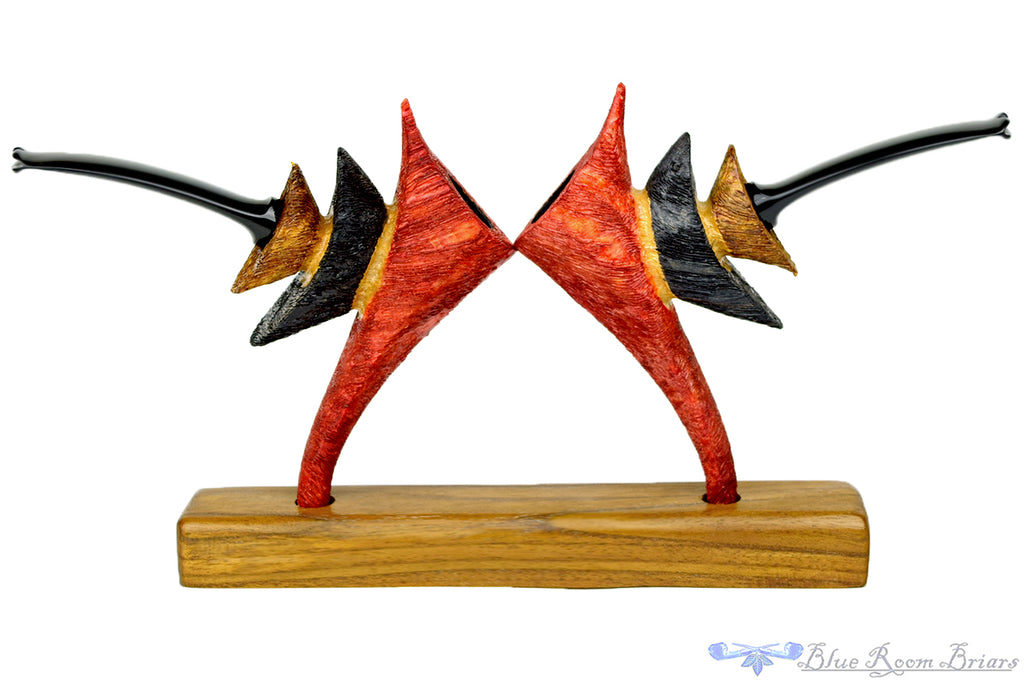 Roger Wallenstein Pipes Reefiffy Twins with Custom Stand and Wooden Box
Item # RW194481
Details
This pair of matching driftwood finish pieces from Roger Wallenstein captured our attention in a compelling show of organic sculpture.  While not exactly identical, they are very close, so close that the stems are interchangeable.  The coloring and the amazing texture of these fully functional and excellent smoking puffers had us convinced there must be a tropical fish behind the inspiration.  Whatever you see as the impetus, there is no denying that this set of distinctive and striking pipes are clearly a celebration of the natural world, like much of the creations from Roger.  The buttons are unconventional, shaped for clenchers with a little extra give in their engineering, making these Reefiffy not just beautiful but hyper functional as well.

Length:  5.18 in / 13.16 cm                     (5.12 in / 13.00cm)
Height:  5.15 in / 13.10 cm                      (5.05 in / 12.83 cm)
Width:  1.18 in / 3.00 cm                          (1.25 in / 3.17 cm)
Chamber Diameter:  .71 in / 1.81 cm     (.71 in / 1.80 cm)
Chamber Depth:  1.23 in / 3.14 cm        (1.20 in / 3.06 cm)
Weight:  1.48 oz / 42.1 g                         (1.63 oz / 46.2 g)
Origin:  Germany
Stummel Material:  Briar
Stem Material:  Ebonite
Markings:   "Walle"