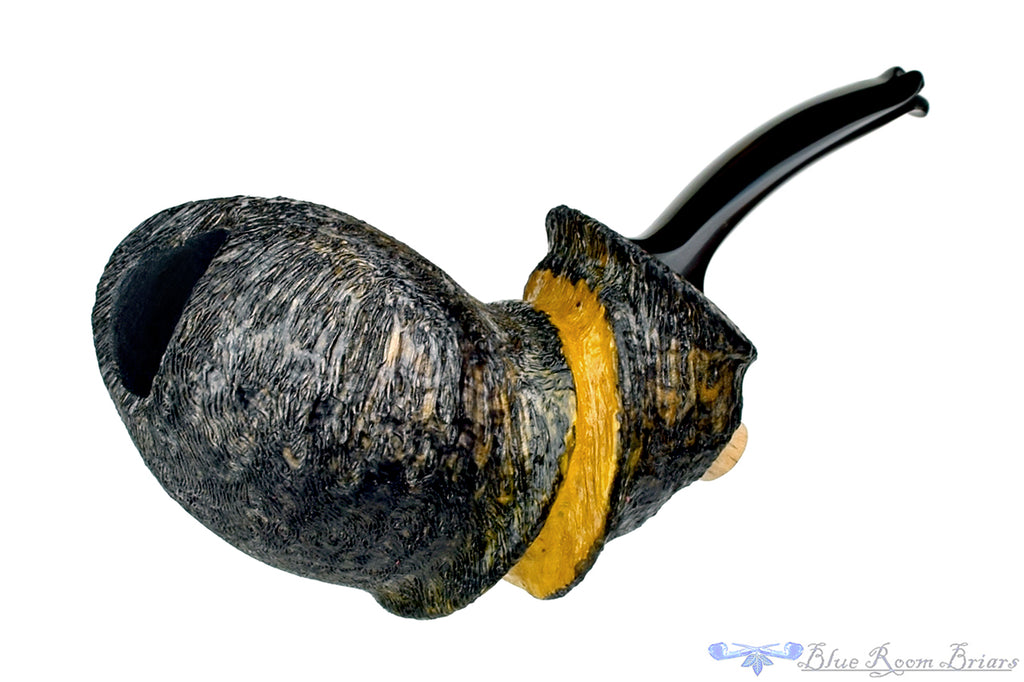 Roger Wallenstein Pipe Pettigo
Item # RW194484
Details
If you haven't already seen a smoking creation from Roger Wallenstein, this enormously chasmed chambered piece must look like an alien that landed and is looking for another smoke shop from the other dimensional realm from whence it came.  Roger's pieces are dynamic, inspired, and so far outside of classical shaping models, that he deserves his own cannon of shape charts.  This Pettigo, named after the Irish village that sits right on the border between Northern Ireland and the Republic of Ireland, has a swath bisecting the front from the rear, just as the Termon River bisects the village, Northern Ireland on one side, and the Republic of Ireland on the other.  In addition to the unique shaping, Roger has perfected a driftwood finish, using a proprietary solution to take away the softer parts of the wood and what remains is a tactile map of the original grain.  Both visible and satisfyingly groovy in hand, this small sculpture has a stem of ebonite with a completely unique take on the button.  Very comfortable, with just a little bit of extra give for the clencher, Roger also incorporates a small plug that will rest secure against the chin, keeping the pipe easily maintained, despite its touch of heft.  Striking and compelling, this sitter one of a kind smoker is unlike anything you're likely to see at your local shop, but make no mistake, they smoke extremely well.

Length:  4.25 in / 10.80 cm
Height:  2.83 in / 7.19 cm
Width:  1.88 in / 4.78 cm
Chamber Diameter:  .90 in / 2.29 cm
Chamber Depth:  2.05 in / 5.20 cm
Weight:  2.68 oz / 75.9 g
Origin:  Germany
Stummel Material:  Briar
Stem Material:  Ebonite
Markings:   "Walle"