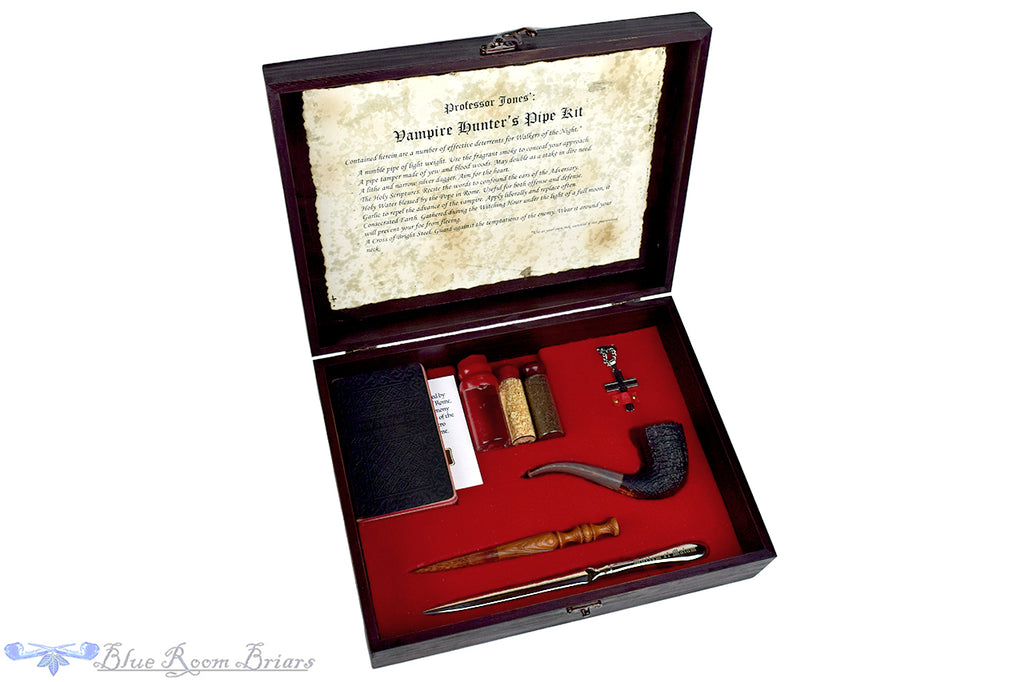 Professor Jones Halloween 2023 Vampire Hunter's Pipe Kit*
Item # JJ232489
Details
Inspired by the late Professor Ernst Blomberg himself, this modern Vampire Hunter's Pipe Kit is everything a smoker might need should evil be encountered and wished to be dealt with swiftly and efficiently*.  In addition to the Jones Handmade Pipe, see details below, there are a number of essential items inside the custom made and fitted display case with a single latch and two hinges.
Custom Made Tamper (sandblasted Yew and polished Blood woods)
Silver Dagger (engraved: "Mortem et Malum")
The New Testament (Holy Scripture printed in 1903)
Glass Vial of Holy Water (Blessed by Pope Francis, Bishop of Rome, 2023 - Papal Seal Certificate included)
Glass Vial of Garlic (dried and flaked)
Glass Vial of Consecrated Earth (Blessed by Father Peter Dubbel at Saint Mary Parish, Marysville, 1895 and gathered by Jesse under the feet of Virgin Mary at midnight by the light of the full moon)
Steel Cross (permanently fastened to a chain necklace)
Jones Pipe Halloween 2023 Bent Antique Sandblast Horn with Plateau and Brindle
Deeply sandblasted with an antique finish showing peaks of vivid red, this bent horn is capped with the outer plateau of the burl and a smooth, polished bevel into the deep and slightly coned chamber.  The brindle stem is gray with swirls of orange streaks that pick up the lighter tones in the finished briar.  Flowing with curves, the late bend in the stem adds comfort to the low slung profile when clenched, allowing a good smoke with both hands free to deal with any necessary finishing blows.

Length:  5.44 in / 13.82 cm
Height:  2.31 in / 5.88 cm
Width:  1.50 in / 3.81 cm
Chamber Diameter:  .73 in / 1.86 cm
Chamber Depth:  1.69 in / 4.31 cm
Weight:  1.60 oz / 45.4 g

Origin:  United States
Stummel Material:  Briar
Stem Material:  Ebonite (Gray and Orange Brindle)
Filter:  No Filter

Markings:  Jones, Hand Made, 10/31/23

* Use at your own risk; survival is not guaranteed.